12 volt to 9 volt Battery Connection Cables.
Cable for all 9V Energiser that can also be operated with an external wet or dry 12V batteries.
Trapper and Gemini energisers.

Simply use the battery terminals on the energiser and attach to a re-chargeable 12v Leisure Battery.
NB: NOT required for many 12v Energisers where the connections are built in as standard.
Also Purchased
Long Lasting 9v Electric Fence Batteries Batteries supply energy for an extended life. The High Voltage course ensure the maximum power output to the energiser. All batteries are Cadmium and and...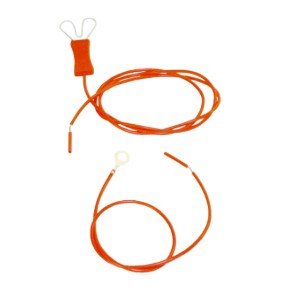 Battery Energiser Fence Connection Kit. Both cables have double insulation for use with high voltage energisers. Heart connection cable is 100cm (39 inches) long with re-inforced plastic covering. The Heart...
Handy Portable 9 volt Electric Fence Energiser Special features at a glance: Power Control - activity display of the energiser Comfortable on / off switch Ergonomic handle Extremely impact-resistant polycarbonate...